Chelsea Vs Barcelona, Who will walk on stamford bridge to the final?
By: Ramzi | April 17th, 2012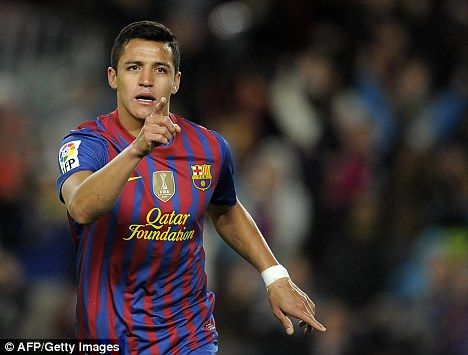 Economic crises invaded Spain like death, with lots of theories about the reasons behind such collapse. Yet, you only master economy if you avoid following football tabloids and news to protect your brain cells. And that's where economists missed the true reason behind all mess.
Event: Chelsea – Barcelona
Place: Stamford Bridge
Date: May 2009
Miracle: Iniesta's goal
Nine months later, THIS:
A survey by COMRadio showed that births this week and those expected next week are 45 percent higher than the average.

"When we notice some sort of surge we look for the reason and it's evident that the cause of the increase this week is the euphoria of Barca fans thanks to the huge win and Iniesta's goal," El Mundo newspaper quoted Mercedes Rodriguez of the city's Quiron Clinic as saying.

The babies are popularly known in Barcelona as "the Iniesta generation."
Population increased on a higher rate than economic growth. Economy collapsed. And so we rest our case!
You will obviously read many rambles about "The scandal of Stanford bridge", I recommend you don't bother arguing. Hopeless case. But what concerns me most is the impact of such pressure on referees. 50/50 decisions will be hard to decide on. I do hope the referee will have a good match so we stay controversial free. Especially that people tend to forget the times where Barcelona were at the receiving end of referee mistakes and only remember when it goes the other way, with lot of hyperbole. Chelsea players are very experienced. If they felt the referee's hesitation to call the 50/50 against them, they can expose that as far as they can.
To the game
It is very difficult to guess how Pep will approach this match. He has been tinkering a lot recently, which inspires you that he is looking for something different for the last stretch of the season (beside the tuning dictated by injuries).
There are many tough decisions to make. Should Pep bench one of the three main center backs (Puyol, Macherano, Pique)? If so, who? Puyol is the leader of the defense, Pique is needed for his height, while Mascherano is the best and most consistent defender recently.
If Barcelona will start all three defenders, then Either Alves, or Alexis, or Cesc will be benched. My default option is well-known, yet Cesc may help a lot in this game as it fits his qualities and he is used to play in and against EPL clubs. That, if I surrender to the assumption that Keita has no chance to start – and that's not good news for me in any away match in champions league.
Now upon some discussions on Twitter, friends brought to my attention that both Puyol and Mascherano are one yellow away from a suspension. As a precaution, Pep may bench one of them for the second leg.
And here is a selection that can do: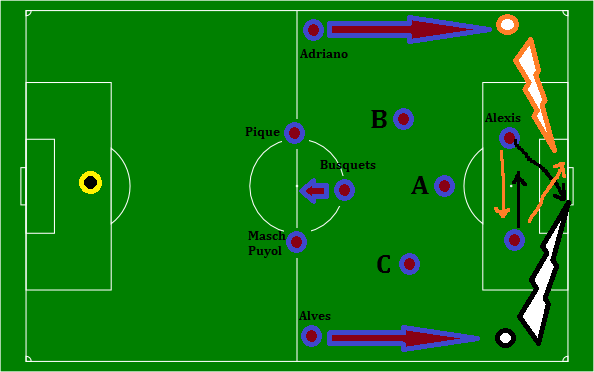 I used letters as variables instead of numbers to avoid confusion with players' numbers. Ideally, I would suggest Keita for position (B), Xavi (C), Iniesta (A), and Messi upfront with Alexis. However, taking consideration that Keita is coming back from injury, and Cesc is well adapted to English game, I do believe he can help a lot in this match. That's why, I'd like to see Xavi-Iniesta in (B) and (C), Messi and Cesc taking turns on (A), and Alexis-partnership.
Stretching Chelsea's defense will be vital to create holes in the center. By defending narrow, Tanks-studded Chelsea can cement defense if Barcelona create all the danger thru the center. However, crossing the ball to Messi's head in the box, means an amusing night for Terry and co. That's why, the crosses should target the feet, and mainly crossing targeting near posts. To create a gap, when Alves trigger a cross, right forward should move upward toward left, dragging the respective center back with him and creating a hole for his offense opponent to make a diagonal run to right post. And vice versa when Adriano activates a cross.
Defensively, Busquets positioning depends on Chelsea's tactics. Whenever Busquets moves back as a third center back, Xavi will have to play more conservative to cover the space in the midfield. It is crucial for Barcelona to activate lateral buildup through Alves-Messi and Adriano-Iniesta while shuffling from defense third to offense to release the ball forward even when Chelsea succeed in marking Busquets and Xavi.
Whenever Chelsea win the ball, they will bypass with a throwing ball to Torres/Drogba who will either generate a fast counter aided by Mata, or hold on the ball to give enough time for his teammates to reposition in an offense setup. The better Pique and Busquets synchronize, the more Barcelona can avoid troubles coming from such situation.
At Stanford Bridge, Barcelona will play one of the three (VERY) tough games that will decide the season's opportunities when it comes to titles. For the entire crisis suffered, no one can complain about Barcelona's competitive edge so far this season. However, one or two titles won't hurt.
Some Related Barcelona Posts:

Category:
Barcelona
,
Champions League
,
Preview
,
Team News
blog comments powered by

Disqus