Exclusive! Pep and Tito discuss CDR Team!
By: fcbfandrivel | May 18th, 2012

You know how everyone has inside sources? Well, we've always wanted one too. It would be someone we can then gleefully quote under strict requirements of confidentiality. And like some newspapers spewing bilge about circumstances in which Tito replaces Pep, possibly get sued right after too! Our inside sources within Barcelona first team reports on the following conversation between players and staff over the past few days in training sessions. It's exclusive of course. (Especially so considering it's entirely made-up.)
Training session: A tall, thin and bald man stands next to a tall, thin er… not-really-bald man. Heck, we suck at descriptions, here's the picture.
Pep to Tito: So here's the list of first team players, there should be at least twenty of them. Where's everyone?

Tito: Injured.
Pep: All of them?
Tito: Apparently.
Pep: That's not possible.
Tito: Here are the buckets. Recovering from broken collar bone, broken shin bone, knee surgery, soleus issues, ankle issues, muscle discomfort, stomach flu and…
Pep: …okay. Now that at least we're here, we might as well decide on the lineup. Let's start with defense. Who do we have?
*crickets*
Pep: Good Lord! Do we have the six clones of Juanjo Brau that we requested at least?
Tito: Each Juanjo is working with three players. There is still hope for the CdR final.
The tall, thin….well, Pep and Tito walk off the training ground.
*
Next Day
Pep to B-teamers: Ready you are, younglings. This is our last chance this season to win a shiny addition to the trophy cabinet. Owing to our players repeatedly walking under ladders, spilling salt, opening umbrellas indoors and breaking mirrors, we have the bad luck of only having 6.25 players fit for CdR final, with a 60% possibility of making it 7 to meet the requirement. To cut a long story short, get ready to play. Messi and Thiago are present for the training session today. Follow their excellent example.
(Thanks to @doris86pl for the picture)
*
Next Day
Pep to Tito: Good, so now we can have the staff meeting to decide lineup.
Tito: We have three players.
Pep: Yes, but where do we play them?
Tito: Um…Xavi and Thiago in midfield, and Leo up front?
Pep: …Did those bubble-wrap suits come in?
*
Next Day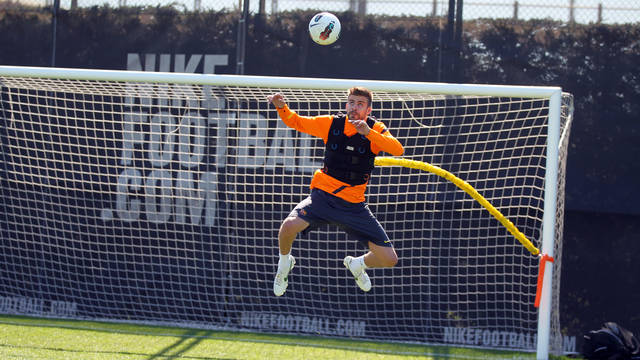 Pep to Tito: So Pique's going to be our emergency goalkeeper, just in case.
Tito: Okay. Who's going to defend?
Pep: …Maybe we can ask Xavi, Thiago & Leo to just keep the ball?
*
Next Day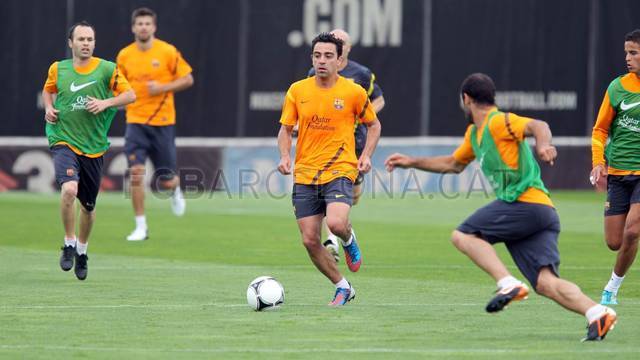 Pep to Tito: There are too many players, I don't know what to do! Last I counted, I think there might have been more than eleven even!
Tito: Eleven fully fit first team players? I don't think that's possible!
Pep: See for yourself! I'll be back in a minute after pinching myself repeatedly!
Tito: And the bubble-wrap suits we ordered are here!
Pep: Looks like there's some hope for the CdR final after all!
*
The End
Note: Did we mention our inside source will remain strictly anonymous? We did? Yeah, our inside source will remain strictly anonymous.
Update: Or as Vj suggests in comments below, Pep could just revert to this.
Some Related Barcelona Posts:

Category:
Barcelona
,
Copa del Rey
,
Nonsense
,
Players
,
Team News
blog comments powered by

Disqus